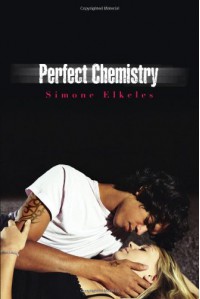 I loved this book! It was so full of cliches and so cheesy that I couldn't help, but love it. I read the book in only a few hours, after promising myself that I would be a good girl and go to bed early. I didn't. I stayed up and finished reading this instead.In this contemporary book, there's a little bit for everyone, but only if you like general fiction.
There was drama in the form of the relationships between Alex and Brittany and their families. Action, in the form of fights and other goings on with the street gangs. Mystery, as in who killed Alex's father. And, of course, romance. With a name such as Perfect Chemistry, how could there not be? And how could they not be assigned as Chem partners with such sparks developing between them?But this was no insta-love, I didn't think so anyway. This was more 'I hate you, but I know later on I'll succumb to your charms' type of book.
I loved how Alex and Brittany played games - not only on themselves, but on each other. There was also depth in the story - especially in the way they were with their families. Brittany lived for her sister, practically living her life to make sure that her sister remained happy and free from harm and Alex was pretty much the same way with his family. It felt like a coming-of-age story in the way they finally made their own decisions in how they wanted to live their lives. And Alex's decision in the end, what he did to free himself so he could be with Brittany, wow, that made me all gooey inside and got my 'hopeless romantic' heart seriously overloading. I know, I'm pitiful.The story wasn't only about them, though.
The other minor characters played their part as well, and there were so many of them. I don't think I'll ever get over Brittany's mom. And, Brittany's sister, Shelley, was absolutely lovely. She made me smile inside, even when she had her uncontrollable rages. I thought Colin was an ass, but there's one in every book and, Paco, poor, sweet Paco, he was the type of friend who would die for you. Anyway, if you're looking for a book to read just for fun, just so you can be highly entertained, this is the book for you.